Community Connections Fair set for Saturday, March 26
Picture above taken at the 2018 Community Connections Fair
Community Connections Fair
Saturday, March 26, 2022
10:00 a.m. – 1:00 p.m.
Schmucker Middle School
56405 Bittersweet Rd., Mishawaka
The Penn-Harris-Madison School Corporation's ENL Services' is sponsoring the District's FREE Community Connections Fair!
Come check out what the Mishawaka, South Bend, and Elkhart communities have to offer to your families!
P-H-M is inviting area businesses who want to participate in the Community Connections Fair to sign up. Click here to request a table at the event.
The Fair will also include cultural performances from P-H-M students and families. Families wishing to sign up to perform, click here.
Flyers about the event are available in the following languages, please click to download and print:
Bilingual interpreters will be on hand at the event to assist those families who need it.
Come out and enjoy the many cultural performances and student work that will be on display representing countries from all over the world!
Please join us!
For more information, please contact:
Nicole Parker
P-H-M Elementary ENL Coordinator
(574) 259-2486, Ext. 53261
nparker@phm.k12.in.us
Young Authors' Conference, Sat. March 5
(picture above was taken March 2019)

Mark your 2022 calendars for P-H-M's Young Authors' Conference:
Saturday, March 5
8:30 – 11:00 a.m.
Schmucker Middle School
P-H-M Elementary students, grades K-5
Registration Fee: $5 per child
Online registration is at phm.revtrak.net. The deadline for registration is Friday, February 18, 2022.
The Young Authors' Conference is for P-H-M students in grades K-5. The event, sponsored by Corporations for Education, a division of the P-H-M Education Foundation, provides an opportunity for students and their parents to meet and hear from a well-known children's authors. Click here to view the photo gallery of the 2019 event.
This year students and their parents will meet and hear from well-known children's author, teacher, and speaker, Gabrielle Balkan. Mrs. Balkan is best known for non-fiction books that delight readers ages 3-12 with curious and essential facts about the United States, animal record-breakers, and ground-breaking artists. Mrs. Balkan will share her experiences as a writer and illustrator during her engaging, grade-level presentations.
Participants and parents will also enjoy an interactive, up-close animal experience from the Potawatomi Zoo staff. As part of the morning activities, students will share their own writing piece in small, adult-led group sessions with students from other P-H-M elementary schools. While students are meeting with their peers, parents will join P-H-M Teacher and writing expert, Mary Nicolini, as she explores how writing can be a method for remembering and preserving events using real-life stories, drawings, and photographs.
Elementary student attendees will also work in small adult-led breakout sessions sharing their own writing pieces with other P-H-M students.
COST: The registration fee of $5.00 per child is used for conference expenses. There is no cost for the parent. One parent only must accompany students! However, keep in mind that students and parents will separate for a portion of the day. YOUNGER siblings may not accompany adults. This experience is for your young author and parent.
REGISTRATION: Online registration will be available at phm.revtrak.net. If you don't have a P-H-M Revtrak account, you will need to create one. There is a fee for using this service. The deadline for registration will be Friday, February 18.
CONFIRMATION: Participating students will receive additional information prior to the conference through their home school at the beginning of March.
QUESTIONS: If you have any questions, please contact Lindsay Schirripa at lschirripa@phm.k12.in.us.
Penn Poms to host one-day clinic on Saturday, Jan. 29
Penn Poms will host a one-day clinic on Saturday, January 29, 2022.
The Poms clinic participants (pre-K through eighth grade) will learn a dance routine during the day on Saturday, Jan. 29, that will be performed at the Penn High School boys basketball halftime that night. The clinic cost is $35 per student.
Click here for details.
*Adobe Acrobat Reader will be required to view the pdfs on this page. If you do not have Adobe Acrobat Reader, please visit Adobe's website, at this link www.get.adobe.com/reader/, to download your free version.
COVID Testing Walk-in Clinic for P-H-M Students & Staff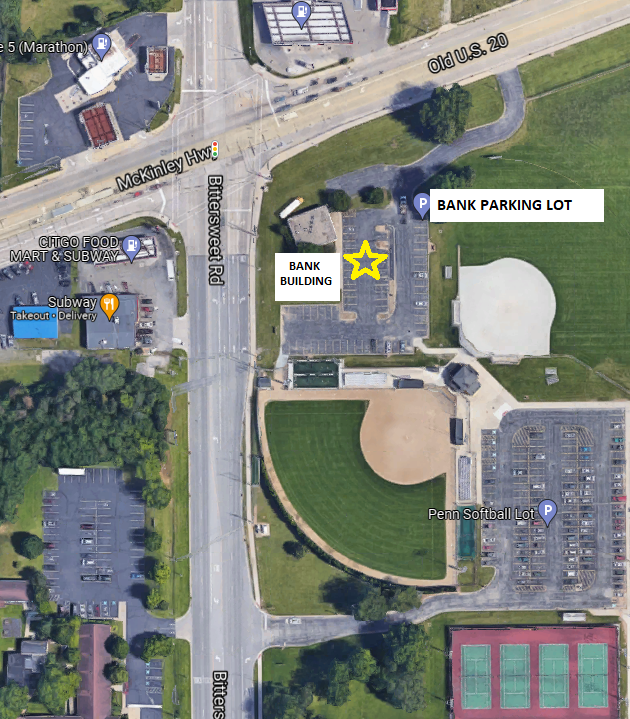 COVID Testing Walk-in Clinic
If a student, teacher, or staff member is symptomatic or quarantined due to exposure, they may receive a free BinaxNOW rapid antigen test for the COVID-19 virus. This program uses Abbott Laboratories BinaxNOW tests provided by the federal government.
The IDOH has recently revised the school site testing criteria due to the limited supply to only test the following groups:
Symptomatic students Pre-K through grade 12
Symptomatic teachers and staff members age 50 and above.
Where can they be tested:
The walk-up clinic will take place at the P-H-M Bank Locker Room Building located on the corner of Bittersweet and McKinley Hwy (US20) near Penn High School. Entry is off McKinley Hwy.
No appointment is necessary.
The clinic will be open when school is in session on

Mondays, Wednesdays, and Fridays

from 7:00 – 9:00 a.m. AS LONG AS TESTS ARE AVAILABLE. The Clinic may need to close early on the days it is in operation as the number of available tests per day may vary due to the national shortage.
We will only test a student accompanied by a parent/guardian.
Please bring the completed consent form to the clinic at the time of testing. Click here to download and print the consent form.
Winter Guard Open House, Tuesday, Nov. 16
The Penn Winter Guard Open House will be from 6-8 p.m. on Tuesday, Nov. 16, in the Auxiliary Gym.
The Open House is for all 4th – 12th grade P-H-M students.
Questions, contact Jen at (574) 903-9200 for more information about Winter Guard.
U.S. News Ranks Elm Road Among Indiana's Top Public Elementary Schools
U.S. News & World Report "Best Schools" Designations has recently expanded to include elementary and middle schools. With Penn High School earning a "Best High School" designation for several years, P-H-M now has several elementary and middle schools who also have earned this distinction, including our very own Elm Road. We've earned the distinction of being among Indiana's Top 30% of Public Elementary Schools (data is based on the 2018-2019 and 2019-2020 school years).
A total of 10 of P-H-M elementary schools earned the high ranking as a U.S. News "Best Public Elementary School." See the full ranking list below:
Two of our middle schools, Discovery and Schmucker, are also named "Best Public Middle Schools." Discovery is ranked #4 in Indiana and Schmucker is ranked #96.
Here's how U.S. News calculated the rankings:
For each state, schools were assessed on their pupils' proficiencies in mathematics and reading, as measured by state assessment tests. Half of the ranking formula was the results themselves; the other half was the results in the context of socioeconomic demographics. In other words, the top-ranked schools are high achieving ones that succeeded in educating all of their students. All data for the rankings are from third-party sources, including the U.S. Department of Education.
U.S. News has published state rankings for more than 47,000 public elementary schools and more than 23,000 public middle schools. Most schools with an elementary school ranking offer grades K-5 or K-6, while most with a middle school ranking offer grades 6-8 or 7-8. Some schools with wider grade spans were ranked in both categories.
U.S. News has published an in-depth methodology article that provides more information about the rankings and how they were calculated.
Penn Robotics October & November Workshops
Penn High School Robotics Team 135 is pleased to once again offering Next Gen Camps this Fall to inspire elementary and middle school students pursue Robotics. The dates are October 29th & 30th, as well as three dates in November: Nov. 13th, 26th, and 27th.
Click the images of the flyers below to enroll your student today.
Dr. Lisa Soto Kile Named Director of Professional Development and Student Learning
Dr. Lisa Soto Kile as the new Director of Professional Development and Student Learning. Dr. Soto Kile is the current principal at Elm Road Elementary School and will begin her new position at the beginning of the 2021-2022 school year.
Dr. Soto Kile began her career in P-H-M in 1992 as a teacher at Prairie Vista. In 1998, she became the Schoolwide Enrichment Specialist and then moved into the Gifted and Talented Coordinator in 2000. Dr. Soto Kile also held the position of Assistant Principal at Northpoint Elementary (2002-2003), Title I Director (2005-2011) and principalships at Northpoint (2003-2005), Madison (2005-2011) and her current role as principal of Elm Road Elementary which she began in 2010. During the 2010-2011 school year, she served a dual principal role leading both Madison and Elm Road Elementary schools.
Dr. Soto Kile's dissertation focused on balanced literacy programs and the impact on students in Title I schools according to gender, race, and socioeconomic status. This along with her many years of experience in meeting the needs of students in Title I schools will make a positive impact on the culture, environment, and educational experiences for our students and staff.
Dr. Soto Kile received a bachelor's degree in Elementary Education from Indiana University Bloomington, a master's degree in Elementary Education from Indiana University South Bend, Elementary and Secondary Principal's License from Indiana University South Bend, and completed her Ph.D. in Educational Studies, Superintendent's License from Purdue University. She also holds memberships in many associations including the Association of Latino Administrators and Superintendents, Indiana Association of School Principals, IU South Bend Teacher Education Advisory Board, as well as the National Science Teaching Association.
Under Dr. Soto Kile's Leadership, Elm Road Elementary has been an "A" rated school and in 2020 earned the distinction of being named a STEM Certified school by the IDOE. Elm is one of 90 schools in the state to have received this designation.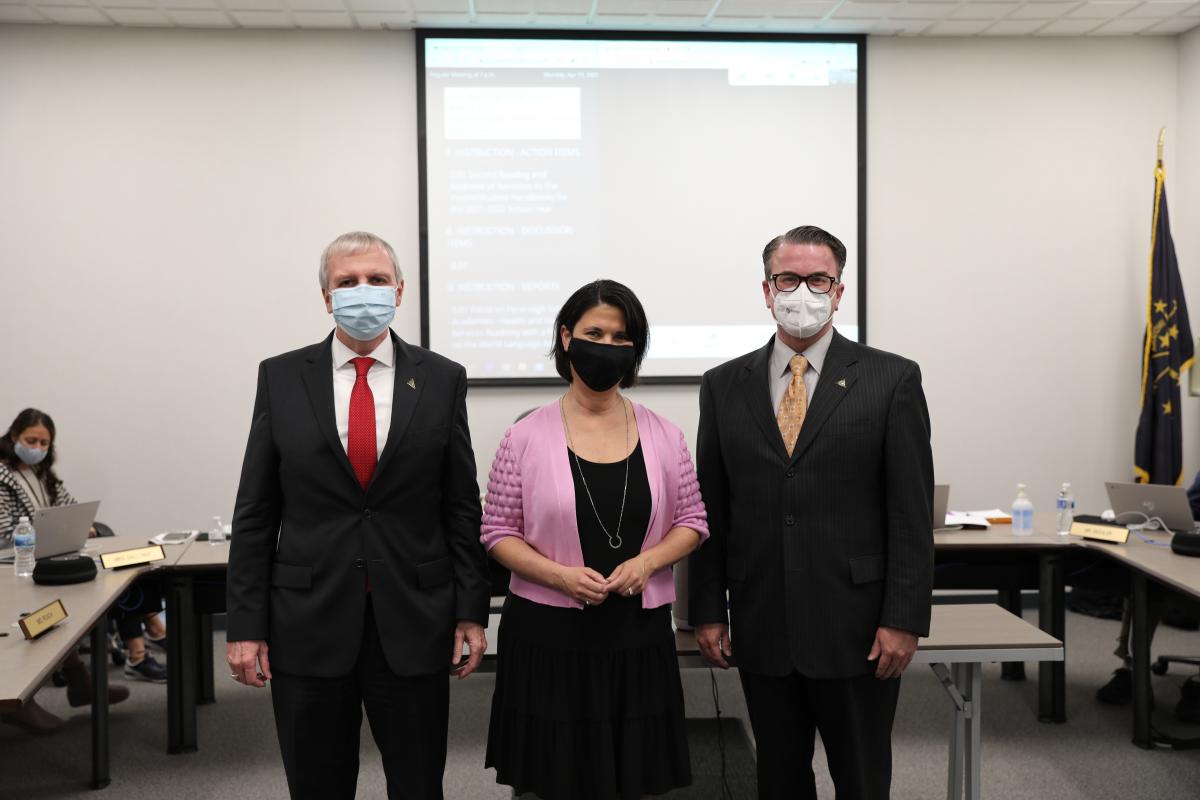 The P-H-M Board of School Trustees approved Dr. Thacker's recommendation of Dr. Soto Kile to the Director of Professional Development and Student Learning position at the April 19, 2021 Board Meeting.
Dr. Soto Kile is replacing Dr. Jayson Snyder who had previously held the Director of Talent Acquisition and Development position. Dr. Snyder was named the new Superintendent for Middlebury Community Schools on March 31. His last day with P-H-M is June 30.
P-H-M Names 2021 Elementary Teacher of the Year, Mrs. Kathy Shreiner
The first week of May is national Teacher Appreciation Week. Leading up to this special week every year Penn-Harris-Madison Superintendent surprises the district's Elementary Teacher of the Year and Secondary Teacher of the Year with the news that they have been chosen. This afternoon Dr. Jerry Thacker walked into the Elm Road Elementary classroom of 5th grade virtual teacher Mrs. Kathy Shreiner to let her know she had been chosen as the district's 2021 Elementary Teacher of the Year.
Mrs. Shreiner was in the middle of conducting class with her 5th grade virtual learners. She was just as surprised as her students were when Dr. Thacker, Elm Road Principal Dr. Lisa Soto Kile, P-H-M Administrators, and some of her colleagues walked into the room to give her the good news.
One of the Administrators on hand for the surprise announcement was P-H-M Chief Operating Officer Mr. Aaron Leniski, who was in Mrs. Shreiner's first class when she became a teacher in P-H-M 32 years ago! Click to see the photo album below.
Mrs. Shreiner joined P-H-M in 1989, teaching at Elm Road Elementary School; she has been teaching at Elm for her entire tenure! She received her BA in Education from Goshen College and a Master's degree in Elementary Education from IUSB.
Four of her colleagues nominated Mrs. Shreiner for the P-H-M Elementary Teacher of the Year award. As a veteran experienced teacher, her co-workers have praised Mrs. Shreiner on what a great resource she's been to the other virtual teaching team members … "She has such a positive outlook and is always looking for solutions to the problems we face in a digital world. She has worked tirelessly to learn all the new platforms and continually contributes to the group to help us find ways to meet the needs of all of our learners." Her excitement for teaching has not waned in 32 years, co-workers say she's just as energetic today as when she first started teaching, even during these challenging times. One of the creative ways Kathy has worked to keep her students engaged is using her dog in some of her recorded lessons. She maintains a personal connection with her virtual students by sending them surprise prizes and notes via "snail mail!" Mrs. Shreiner also works extremely hard at keeping the parents of her virtual teachers informed so they are a part of their students' educational experience.
"All of our teachers have work extraordinarily hard during the pandemic, going above and beyond to engage their students and maintain relationships," said Superintendent Dr. Thacker. "Kathy Shreiner, and many of teachers like her, are dedicated to helping our students close the learning gaps and help them continue to achieve academic success."
Mrs. Shreiner is well respected by her peers, whether she's worked with them for 26 or five years. One of the teachers who nominated Mrs. Shreiner stated … "She is always willing to help and really thinks deeply about each situation prior to giving advice or helping in any way. She is a person that I know I can always go to for guidance in any situation." The IDOE named Elm Road a STEM certified school in May of 2020; and Mrs. Shreiner was an integral part of the application process.
Mrs. Shreiner along with P-H-M's soon-to-be announced Secondary Teacher of the Year will submit applications to be considered for Indiana Teacher of the Year. Both P-H-M Teachers of the Year will receive a $1,000 classroom grant from P-H-M's Education Foundation. The 2020 Teachers of the Year will also submit their applications for Indiana's TOY. Last year during the pandemic, Elementary Title I Technology Integration Coach Jessie Kinney was named P-H-M Elementary Teacher of the Year and Penn High School's Applied Biology/Life Skills Science teacher Amy Zimmer was named P-H-M Secondary Teacher of the Year.
A photo album of high resolution JPG files are posted above. We are happy to provide this service to you, free of charge! If you are a member of the media and you are using these photos for news purposes, please credit Penn-Harris-Madison School Corporation.
COVID-19 SCHOOL ATTENDANCE QUICK REFERENCE
The Indiana State Department of Health last updated the COVID-19 School Attendance Quick Reference Guide for parents and schools on December 4, 2020.
PLEASE NOTE: For families who are not able to isolate from everyone else at home, the start date of quarantine is determined by last date of exposure to a positive or untested person; this may be after the ill person completes their 10 days of isolation.
Click the image below to download and print.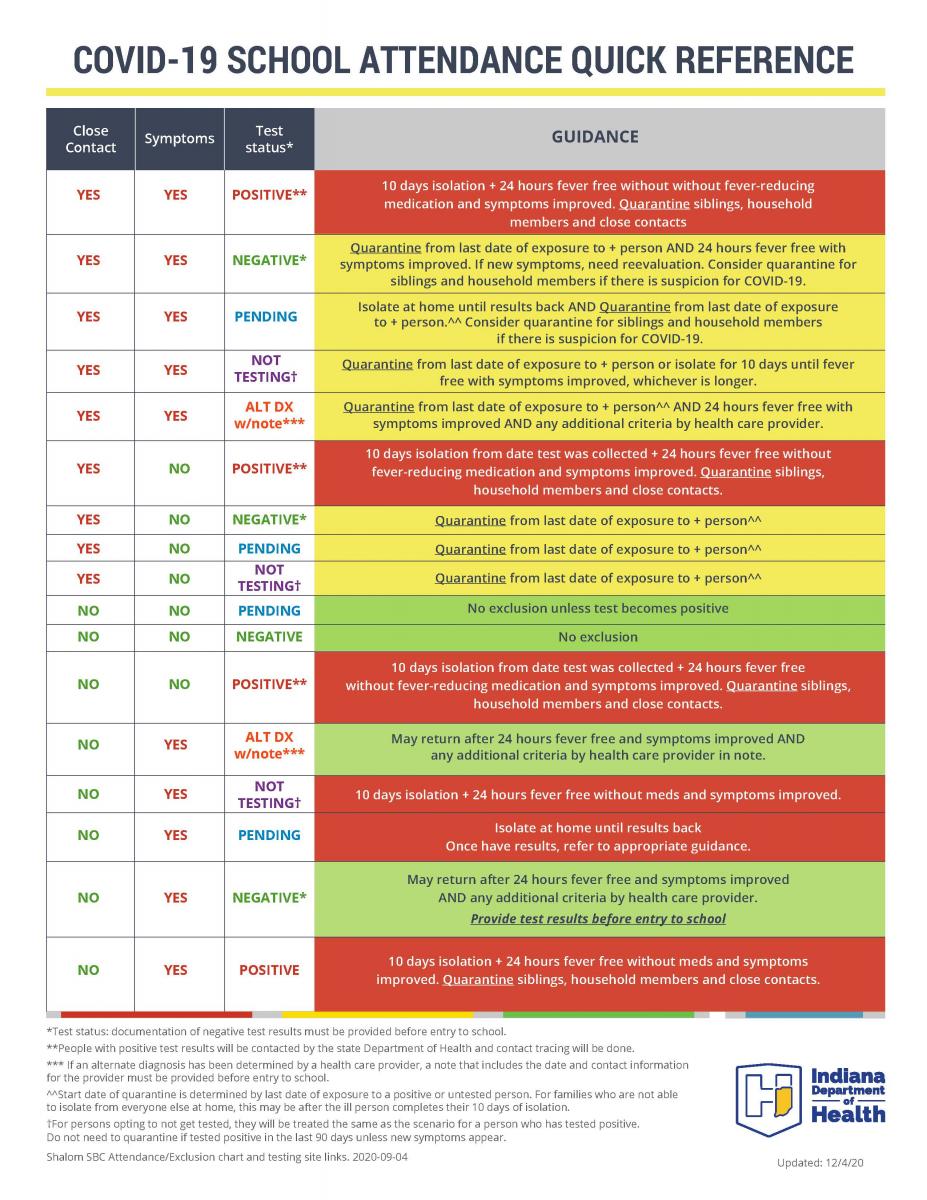 This resource is also provided in the District Overview Return to Learn Fall 2020 document, under "Important Links at the end of the document.