Pie for Pi Day!
When written numerically, March 14th is 3.14. That also happens to be the beginning of Pi, the infinite number that is the ratio of the circumference of any circle to the diameter of that circle.
Confused? Then ask a 5th grader for an explanation!
Our 5th grade Eagles did several lessons throughout today to explain the concept.
They made bracelets with beads representing 3.14159265359, they did poetry based on Pi and of course, they ate pie!
The pie wasn't just a treat, pies are circles so that went along with the theme of circumference and diameter.
Photos are below, take a look!
2022 Middle School Instrument Selection Night
Discovery
Tuesday, Feb. 22 and Wednesday, Feb. 23
4:30 – 7:30 p.m.
Schmucker
Monday, Feb. 28 and Tuesday, March 1
4:30 – 7:30 p.m.
Grissom
Monday, March 14 and Tuesday, March 15
4:30 – 7:30 p.m.
Penn-Harris-Madison School Corporation is nationally recognized as one of the "Best Communities for Music Education" offering choir, band and orchestra at Schmucker, Discovery and Grissom Middle Schools.
Every P-H-M 5th grader who will be attending a P-H-M middle school as an incoming 6th grader in the Fall 2022 has the opportunity to join an instrumental music class, which includes either band or orchestra. "Instrument Selection Night" is when students and families get to make their choice!
At "Instrument Selection Night," a music professional will be available to give students advice about which instrument may be best suited for them. They will be allowed to "try out" instruments from various instrument groups. Click here to download, view and print more information on Instrument Selection Night.
In order to join 6th grade band or orchestra, students must select an instrument that they will learn, practice and perform for the school year. Click this link to sign-up for your appointment at your designated school and date.
Penn Poms to host one-day clinic on Saturday, Jan. 29
Penn Poms will host a one-day clinic on Saturday, January 29, 2022.
The Poms clinic participants (pre-K through eighth grade) will learn a dance routine during the day on Saturday, Jan. 29, that will be performed at the Penn High School boys basketball halftime that night. The clinic cost is $35 per student.
Click here for details.
*Adobe Acrobat Reader will be required to view the pdfs on this page. If you do not have Adobe Acrobat Reader, please visit Adobe's website, at this link www.get.adobe.com/reader/, to download your free version.
COVID Testing Walk-in Clinic for P-H-M Students & Staff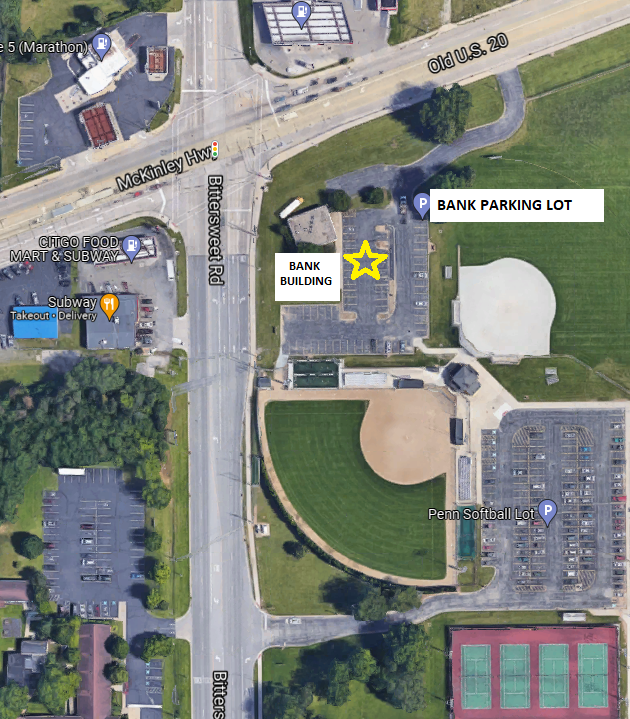 COVID Testing Walk-in Clinic
If a student, teacher, or staff member is symptomatic or quarantined due to exposure, they may receive a free BinaxNOW rapid antigen test for the COVID-19 virus. This program uses Abbott Laboratories BinaxNOW tests provided by the federal government.
The IDOH has recently revised the school site testing criteria due to the limited supply to only test the following groups:
Symptomatic students Pre-K through grade 12
Symptomatic teachers and staff members age 50 and above.
Where can they be tested:
The walk-up clinic will take place at the P-H-M Bank Locker Room Building located on the corner of Bittersweet and McKinley Hwy (US20) near Penn High School. Entry is off McKinley Hwy.
No appointment is necessary.
The clinic will be open when school is in session on

Mondays, Wednesdays, and Fridays

from 7:00 – 9:00 a.m. AS LONG AS TESTS ARE AVAILABLE. The Clinic may need to close early on the days it is in operation as the number of available tests per day may vary due to the national shortage.
We will only test a student accompanied by a parent/guardian.
Please bring the completed consent form to the clinic at the time of testing. Click here to download and print the consent form.
Santa is Back on Saturday, December 4, 2021
We are happy to announce that Santa Claus is coming to town!
At the 2021 P-H-M Winter Wonderland Show, attendees will be treated to a fabulous light show and then children will have an opportunity to tell Santa what they want for Christmas.
The show is called "Laser Holidays" and it will be shown in the state-of-the-art Digital Video Theater located at Bittersweet Elementary School.
Quick Details:
Saturday, December 4, 2021

​Shows at 8 a.m., 9:45 a.m. & 11:15 a.m.
Bittersweet Elementary School

$5 for all tickets​

​Tickets go on sale Wednesday, November 10, 2021 at 10 a.m.
Space is limited to 75 participants per time slot.
Purchase tickets here: phm.revtrak.net
Ticket sales begin on Wednesday, November 10, 2021 at 10 a.m. Tickets will only be available online on a first-come, first-served basis.
Space is limited to 75 participants per time slot. Once all tickets are sold, all sales end.
While the program is intended for Kindergarten through 3rd grade students, children of other ages may attend with their siblings. All children
must be accompanied by an adult and each person must purchase a ticket to attend.
Tickets will then be mailed to you from the Community Education office prior to the event.
If you have any questions about the program, please call 574.258.9568 or email jforkner@phm.k12.in.us.
Masks will be required to wear during the DVT show and in line to visit Santa. Masks can be taken off briefly to take the picture with Santa.
If you have any questions about the program, please call 574.258.9568 or email jforkner@phm.k12.in.us.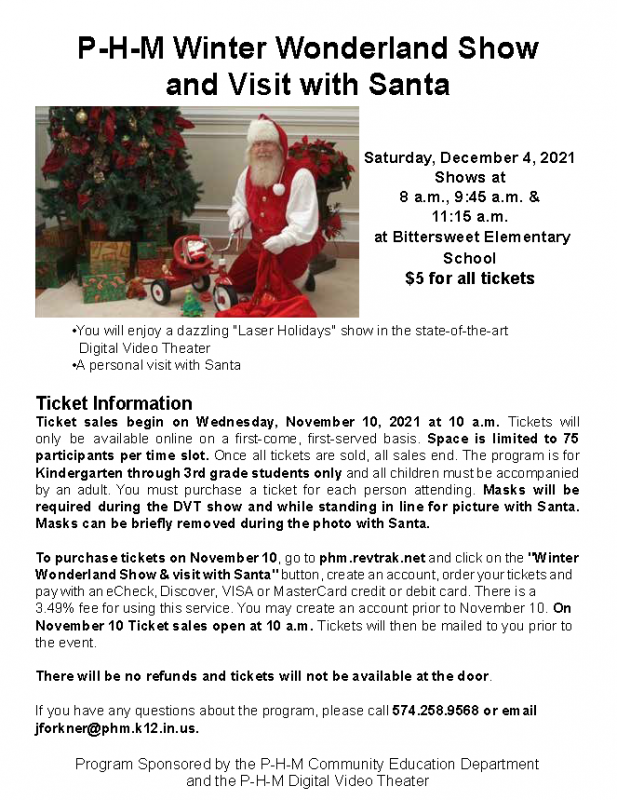 "Fright Night" Orchestra to perform Oct. 28-29
Penn High School presents the "Fright Night" Orchestra on Thursday, Oct. 28, and Friday, Oct. 29, in Penn's Center for the Performing Arts. The concert is scheduled to start at 7:30 p.m. each night. Cost is $5 a person.
The Fright Night Orchestra concert is a celebration of the Halloween spirit! Our five orchestras will perform fun and scary music to delight all of our big and little Ghouls and friends!
The playlist includes:
Phantom of the Opera
Ghostbusters
Harry's Wondrous World – from Harry Potter and the Chamber of Secrets
This is Halloween from Nightmare Before Christmas
Cruella De Vil
Danny Elfman Spooktacular (Corpse Bride, Dark Shadows, Beetlejuice)
A Halloween Thriller
Penn Youth Girls Basketball League Grades 3-8
Registration for the Penn Youth Girls Basketball League for students in Grades 3-8 will be held on Sunday, Sept. 12, from 12:00-2 p.m..
When: Sunday, Sept. 12, 12:00-2 p.m.
Where: Penn High School/ Enter through Door D
Price: $125
Space is limited to the first 108 athletes per age group.
Please read this flyer thoroughly!
Update on Community Information Sessions July, 23, 2021
The message below was shared with P-H-M Families and Staff via email July 23rd, 2021.
P-H-M Administration has received a number of questions from families regarding Critical Race Theory (CRT), and if the ideologies/tenets are included in our Social Emotional Learning, and Diversity, Equity and Inclusion student lessons and staff training.
We recognize the need for our parents/guardians to understand our curriculum. So in an effort to help clear up any misinformation, we will be holding workshops for P-H-M families to explain our programs and goals.
P-H-M Administrators and parents/guardians will be discussing curriculum and we would like for our families to feel free to share their questions and concerns. Priority will be given to current P-H-M Families. If we're oversubscribed, we will provide other opportunities to inform other members of the P-H-M community.
The workshop times are as follows:
Monday, August 2nd @ 1:00 P.M.
Tuesday, August 3rd @ 8:30 A.M.
Tuesday, August 3rd @ 7:00 P.M.
We ask that people respectfully follow these registration guidelines:
Only register to attend one session, not multiple ones.
Each person planning to attend a workshop should each fill out a form.
To allow us sufficient planning time, we will close the registration form on Wednesday, July 28th at 4:30p.m.
You will receive an email regarding session assignments by Friday, July 30th.
The workshops will be held at Penn High School, PLEASE ENTER DOOR C. Please park in the front parking lot of Penn High School.
We approximate that these sessions will last about two (2) hours. All the material shared at the three workshops will be the same (these are not sequential meetings). The format of the sessions will be as follows:
Doors open. Parents/guardians will check in and receive name tags with their assigned group number.
Welcome and presentations by P-H-M Administrators: Superintendent, Asst. Superintendent for Instruction, Director of Social Emotional Learning, Director of Diversity Equity & Inclusion, Principals at the elementary, middle and high school levels.
Break-out groups

Break-out group protocols are as follows:

Be respectful
Take turns
Be concise
Listen
Please register for a workshop time, at the link noted above, and provide us your questions about P-H-M's SEL & DEI curriculum that you would like to learn more about.
We look forward to sharing this valuable and important information with our P-H-M families.
Dr. Jerry Thacker
Kingsmen Boys Basketball League for Grades 2-8
Registration for the Penn Boys Basketball League for students in Grades 2-8 will be held on Wednesday, Sept. 1, from 5:45-8 p.m..
When: Wednesday, Sept. 1, 5:45-8 p.m.
Where: Penn High School/ Enter through Door D
Price: $75 Grades 2-6 / $60 Grades 7 & 8th
Discount: $10 Discount for Summer Basketball Camp Attendees
Information: If you have any questions please contact Assistant Varsity Coach Julius Smith at jsmith5@phm.k12.in.us
Please read this flyer and bring it to registration if possible.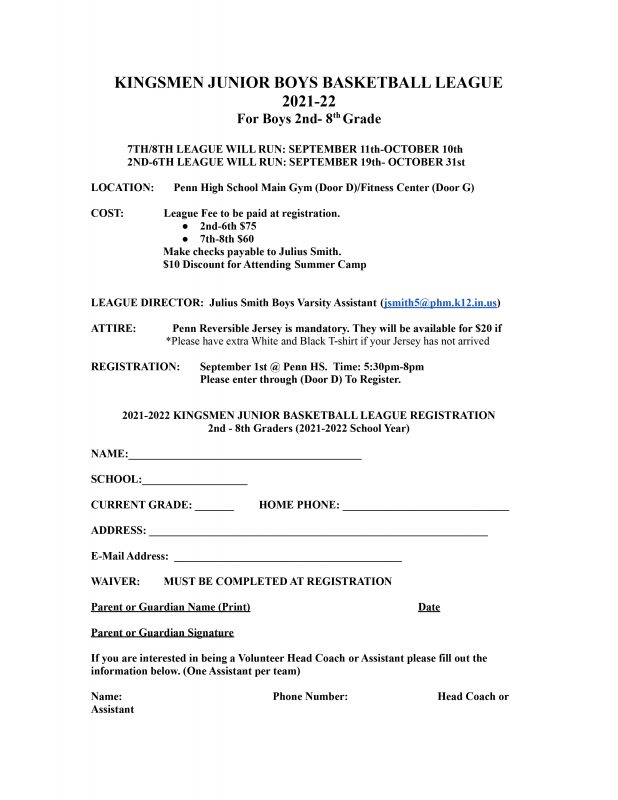 Return to In-Person Instruction – Summer 2021
Penn-Harris-Madison continues to monitor the spread of COVID-19. With more than 13,000 students and employees, we all play an important role in minimizing the risk and impact on each other and our operations. The health and safety of students and staff is our top priority. As a result, P-H-M Schools will implement various measures to keep everyone as safe as possible.
Please click here to read an overview of the district's plan for a safe and healthy learning environment for Summer 2021 In-Person Instruction.
Throughout Summer 2021, P-H-M will continue to track COVID cases of students and staff that are made known to district and school personnel. Click here to view the P-H-M Positive COVID Dashboard.
To read documents related to P-H-M's Return to Learn Plan for the 2020-2021 school year, please click here.