Young Authors' Conference, Sat. March 5
(picture above was taken March 2019)

Mark your 2022 calendars for P-H-M's Young Authors' Conference:
Saturday, March 5
8:30 – 11:00 a.m.
Schmucker Middle School
P-H-M Elementary students, grades K-5
Registration Fee: $5 per child
Online registration is at phm.revtrak.net. The deadline for registration is Friday, February 18, 2022.
The Young Authors' Conference is for P-H-M students in grades K-5. The event, sponsored by Corporations for Education, a division of the P-H-M Education Foundation, provides an opportunity for students and their parents to meet and hear from a well-known children's authors. Click here to view the photo gallery of the 2019 event.
This year students and their parents will meet and hear from well-known children's author, teacher, and speaker, Gabrielle Balkan. Mrs. Balkan is best known for non-fiction books that delight readers ages 3-12 with curious and essential facts about the United States, animal record-breakers, and ground-breaking artists. Mrs. Balkan will share her experiences as a writer and illustrator during her engaging, grade-level presentations.
Participants and parents will also enjoy an interactive, up-close animal experience from the Potawatomi Zoo staff. As part of the morning activities, students will share their own writing piece in small, adult-led group sessions with students from other P-H-M elementary schools. While students are meeting with their peers, parents will join P-H-M Teacher and writing expert, Mary Nicolini, as she explores how writing can be a method for remembering and preserving events using real-life stories, drawings, and photographs.
Elementary student attendees will also work in small adult-led breakout sessions sharing their own writing pieces with other P-H-M students.
COST: The registration fee of $5.00 per child is used for conference expenses. There is no cost for the parent. One parent only must accompany students! However, keep in mind that students and parents will separate for a portion of the day. YOUNGER siblings may not accompany adults. This experience is for your young author and parent.
REGISTRATION: Online registration will be available at phm.revtrak.net. If you don't have a P-H-M Revtrak account, you will need to create one. There is a fee for using this service. The deadline for registration will be Friday, February 18.
CONFIRMATION: Participating students will receive additional information prior to the conference through their home school at the beginning of March.
QUESTIONS: If you have any questions, please contact Lindsay Schirripa at lschirripa@phm.k12.in.us.
Penn Harris Madison COVID-19 Vaccination Clinic
The Penn-Harris-Madison School Corporation considers the health and safety of our school community as a top priority. The FDA has issued an extension of the Emergency Use Authorization (EUA), allowing the use of the Pfizer-BioNTech COVID-19 vaccine to prevent COVID-19 in individuals 5 years of age and older. As such, in conjunction with the St. Joseph Regional Medical Center, we are offering a free COVID-19 Vaccination clinic for all students, staff, and parents/guardians.
This voluntary event is being held after school hours as a convenience for those families wishing to participate. P-H-M recognizes and respects family decisions in regards to non-IDOH immunization requirements.
Who can get the vaccine?
The vaccine is now available for children 5 – 11 and everyone age 12 and older. For the scheduled dates, we are providing an opportunity for any P-H-M student, parent/guardian, and staff member eligible to be vaccinated with their first dose, second dose, or booster shots to those already vaccinated.
Only the Pfizer vaccine is approved for the ages 5-11 age group at this time. Two doses of the Pfizer vaccine are needed to provide full immunization. The first one primes the immune system, helping it to recognize the virus, and the second one strengthens the immune response. If the vaccine you received requires two doses, you should receive both doses, the second dose for this age group being 3 weeks after the first dose. An individual is considered fully protected 2-weeks after the second/last dose.
When will the vaccinations be offered?
Tuesday, January 18th, 5-7:30 p.m.
Where will the vaccinations be offered?
The walk-up clinic will take place at Schmucker Middle School
Please enter through Door C (see map).

Please note that this is the same door as the previous clinics.

Address:
Schmucker Middle School
56045 Bittersweet Rd. Mishawaka 46545.
Keynotes about the vaccine for ages 5 -11?
All children in the eligible group of ages 5-11 will have to be accompanied by a parent/guardian.
Children ages 5 through 11 years receive one-third of the adult dose of Pfizer-BioNTech COVID-19 Vaccine. Smaller needles, designed specifically for children, are used for children ages 5 through 11 years.
COVID-19 vaccine dosage does not vary by patient weight but by age on the day of vaccination.
Your child will need a second shot of the Pfizer-BioNTech COVID-19 Vaccine three weeks after their first shot.
The experience of getting a COVID-19 vaccine will be very similar to the experience of getting routine vaccines. Use the tips to support your child before, during, and after routine vaccinations when getting a COVID-19 vaccine.
Registration Form (needed for 1st dose Only):
Pre Registration will NOT be required. Individuals will be served in the order in which they arrive.
If possible, please print off and complete the registration before arrival.
LINK: Registration (English)
Although there is NO COST to the participants, St. Joseph Health Systems asks that you please bring your insurance cards & state-issued IDs to help the registration process. If you do not have insurance, you will not be turned away.
If the dates or times won't work for my family, how can I sign up to get vaccinated elsewhere?
P-H-M Names 2021 Elementary Teacher of the Year, Mrs. Kathy Shreiner
The first week of May is national Teacher Appreciation Week. Leading up to this special week every year Penn-Harris-Madison Superintendent surprises the district's Elementary Teacher of the Year and Secondary Teacher of the Year with the news that they have been chosen. This afternoon Dr. Jerry Thacker walked into the Elm Road Elementary classroom of 5th grade virtual teacher Mrs. Kathy Shreiner to let her know she had been chosen as the district's 2021 Elementary Teacher of the Year.
Mrs. Shreiner was in the middle of conducting class with her 5th grade virtual learners. She was just as surprised as her students were when Dr. Thacker, Elm Road Principal Dr. Lisa Soto Kile, P-H-M Administrators, and some of her colleagues walked into the room to give her the good news.
One of the Administrators on hand for the surprise announcement was P-H-M Chief Operating Officer Mr. Aaron Leniski, who was in Mrs. Shreiner's first class when she became a teacher in P-H-M 32 years ago! Click to see the photo album below.
Mrs. Shreiner joined P-H-M in 1989, teaching at Elm Road Elementary School; she has been teaching at Elm for her entire tenure! She received her BA in Education from Goshen College and a Master's degree in Elementary Education from IUSB.
Four of her colleagues nominated Mrs. Shreiner for the P-H-M Elementary Teacher of the Year award. As a veteran experienced teacher, her co-workers have praised Mrs. Shreiner on what a great resource she's been to the other virtual teaching team members … "She has such a positive outlook and is always looking for solutions to the problems we face in a digital world. She has worked tirelessly to learn all the new platforms and continually contributes to the group to help us find ways to meet the needs of all of our learners." Her excitement for teaching has not waned in 32 years, co-workers say she's just as energetic today as when she first started teaching, even during these challenging times. One of the creative ways Kathy has worked to keep her students engaged is using her dog in some of her recorded lessons. She maintains a personal connection with her virtual students by sending them surprise prizes and notes via "snail mail!" Mrs. Shreiner also works extremely hard at keeping the parents of her virtual teachers informed so they are a part of their students' educational experience.
"All of our teachers have work extraordinarily hard during the pandemic, going above and beyond to engage their students and maintain relationships," said Superintendent Dr. Thacker. "Kathy Shreiner, and many of teachers like her, are dedicated to helping our students close the learning gaps and help them continue to achieve academic success."
Mrs. Shreiner is well respected by her peers, whether she's worked with them for 26 or five years. One of the teachers who nominated Mrs. Shreiner stated … "She is always willing to help and really thinks deeply about each situation prior to giving advice or helping in any way. She is a person that I know I can always go to for guidance in any situation." The IDOE named Elm Road a STEM certified school in May of 2020; and Mrs. Shreiner was an integral part of the application process.
Mrs. Shreiner along with P-H-M's soon-to-be announced Secondary Teacher of the Year will submit applications to be considered for Indiana Teacher of the Year. Both P-H-M Teachers of the Year will receive a $1,000 classroom grant from P-H-M's Education Foundation. The 2020 Teachers of the Year will also submit their applications for Indiana's TOY. Last year during the pandemic, Elementary Title I Technology Integration Coach Jessie Kinney was named P-H-M Elementary Teacher of the Year and Penn High School's Applied Biology/Life Skills Science teacher Amy Zimmer was named P-H-M Secondary Teacher of the Year.
A photo album of high resolution JPG files are posted above. We are happy to provide this service to you, free of charge! If you are a member of the media and you are using these photos for news purposes, please credit Penn-Harris-Madison School Corporation.
Meals for eLearning Day on Tues., March 30, 2021
With the announcement that Tuesday, March 30, 2021 will be an eLearning day, the meal plan for March 30th is as follows:
Elementary:
Every elementary student in school on Monday, March 29th will receive a meal for Tuesday, March 30th as they leave.
Breakfast AND lunch will be included for students who attend Bittersweet, Elm Road, Elsie Rogers, Horizon, Mary Frank, Meadow's Edge, Walt Disney, Moran & Madison.
Lunch only will be provided for students who attend Northpoint & Prairie Vista
Middle:
When students leave school on Friday, March 26th, they will receive 2 days worth of meals. Those meals will cover Monday, March 29th and Tuesday March 30th.
Students at Grissom and Schmucker will receive pre-packaged breakfast and lunch.
Students at Discovery will receive pre-packaged lunches.
High School
When students leave school on Friday, March 26th, they will receive 2 days worth of meals. Those meals will cover Monday, March 29th and Tuesday March 30th.
Meals for 100% Virtual Learners:
Pick up meals at Door K at Penn High School
Day & Time: Monday, March 29, 1-3 p.m.
Students will receive a refrigerated box and a frozen bag with four (4) breakfasts and four (4) lunches since Friday, April 2nd is a recess day.
Additional Information
Students do not need to be present for the parent or guardian to pick up meals.
Student ID's WILL NOT be required.
*Meals will not be provided on Recess Days.
Menus for all schools and virtual learners can be found here.
Meijer Pharmacy Administers 1,170 Vaccine Doses
Almost a year to the date Indiana schools shut down (P-H-M schools shut down on March 12, 2020), P-H-M teachers and staff got a literal shot in the arm and marked a major step forward in our fight against COVID-19.
On Monday, March 8, 202, Meijer Pharmacy set up a vaccination clinic inside the Main Arena at Penn High School and administered 1,170 doses of the Pfizer-BioNTech COVID-19 Vaccine.
Every P-H-M teacher and staff member who wanted to get the vaccine was able to do so.
The vaccines were made available under the federal allotment of vaccines through the Federal Retail Pharmacy Program. The White House announced that the federal allotment would be open to educational staff at schools so teachers and staff could receive the vaccine, especially in states where educational staff had not been included in the first responder group. P-H-M Human Resources reached out to Meijer as word spread that they were working with Indiana schools to set up on-site vaccination clinics.
We are so thankful to the team at Meijer and to EVERYBODY at P-H-M who worked so hard to make this event happen on very short notice.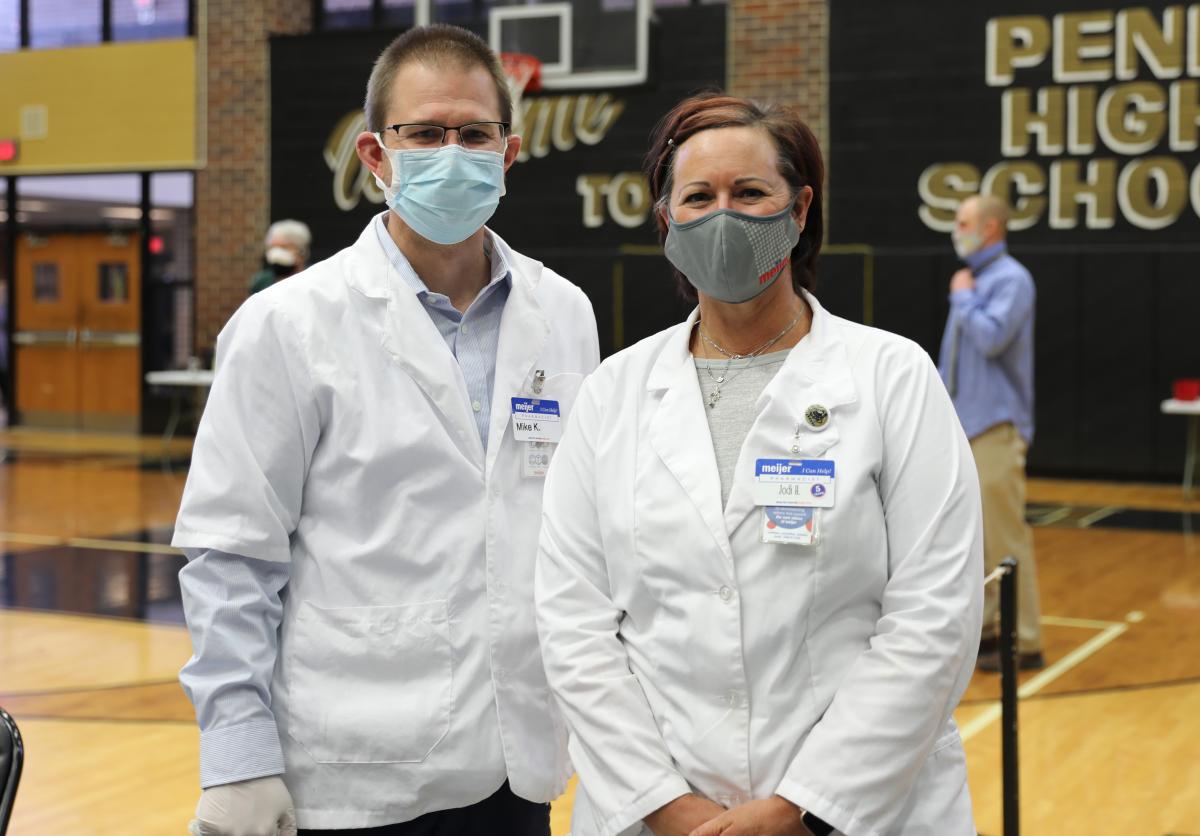 Jenni McCarthy, a kindergarten teacher at Bittersweet Elementary said "I honestly have to say that it was fantastic when I found out that we could get them right here at school. I didn't have to go anywhere. I didn't have to sign up on any list, I didn't have to do anything. It just goes to show that Penn-Harris-Madison is a great place to work because they always think of their employees first and are trying to make sure that we are safe to be back in the classroom."
In addition to the over 700 P-H-M staff members who received a vaccine, we also reached out to area schools to make doses available to others as well. P-H-M felt it was important to share any extra vaccines with educators and staff from other school districts and private schools within P-H-M's boundaries so that no vaccines would be wasted.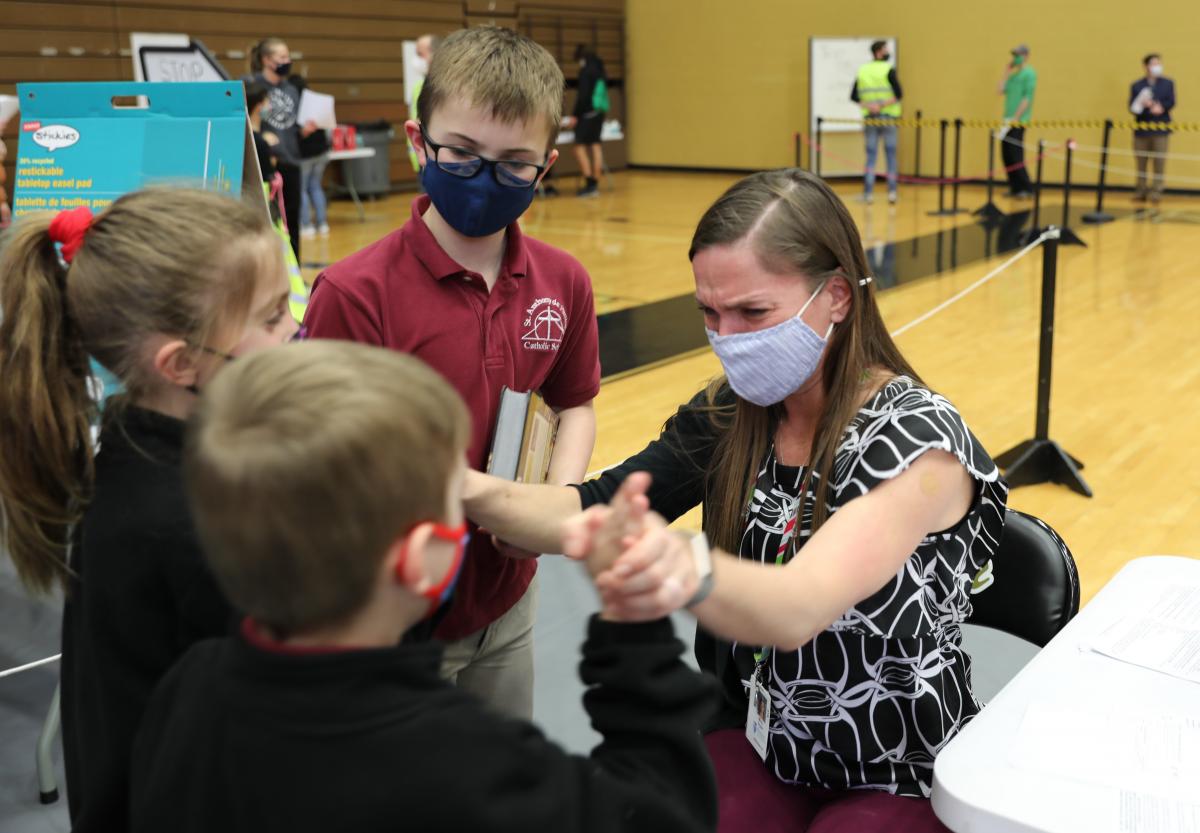 Dr. Jerry Thacker, P-H-M's superintendent of schools said "…this just has a tremendous positive impact on the feeling the teachers, all school employees and the students have with regards to receiving a vaccine. They know they're going to be safer, so this is the first step in that. It also gives us a barometer of what we need to be doing in the future with regard to reaching out and making sure that we can get our students back [in person]."
Watch the video to get a fuller sense of what the day was like. Meijer will return to Penn Monday, March 29th to administer the second dose.
To download high-resolution jpg files from the photo gallery below, just simply click the "DOWNLOAD" button on the bottom right-hand corner of the photo while viewing it in the Photo Gallery function. We are happy to provide this service to you, free of charge!
Return to School Update July 30, 2020
The communication below was emailed to staff and parents today:
July 30, 2020
Dear P-H-M Families,
We have been communicating regularly with medical professionals at the St. Joseph County Department of Health (SJCDH) and receiving guidance regarding the status of coronavirus activity and community transmission in making decisions regarding the safest model for curriculum delivery. The current thresholds for consideration by SJCDH strongly recommend that St. Joseph County Schools open in a virtual learning environment.
They also provided guidance on extracurricular and co-curricular activities. Those programs are being monitored and are under review.
The administration will recommend to the P-H-M Board of School Trustees at a School Board meeting on August 3, 2020, at 7:00 p.m. that all students participate in a virtual learning environment from the first day of school, August 19 through October 22. During the established virtual learning period, we will continue to collaborate with the SJCDH regarding further discussions and recommendations.
Prior to October 22, and the decision to return students to in-person instruction, we will ask parents which option they will be choosing by providing a parent survey. Parents will not be bound by their previous choice.
When we return, we will continue to offer two options: in-person or virtual instruction.
On October 27 (or when the SJCDH deems it appropriate) students who are enrolled in the in-person program will return to school.
On October 27 students who are enrolled in the virtual learning program will continue with virtual learning.
Established metrics, provided by the SJCDH, will determine when it is safe to return to in-person learning. Families will be given a two week notice of any changes to return to in-person learning.
Thank you for your ongoing support and partnership.
Please stay safe and healthy!
Dr. Jerry Thacker
Superintendent
Return to School Update July 10, 2020
The communication below was emailed to staff and parents today:
Thursday, July 10, 2020
Dear P-H-M Families,
I recently sent you information on our plan to Return to School and a survey regarding choices between Face-to-Face Learning and Virtual Learning. Thank you for your valuable feedback. Based on the responses that you provided, we are making positive changes to some of our Education Options, primarily Virtual Learning at the secondary level. Since we want to share those modifications late next week, we are extending the timeline to complete the survey to July 27.
Before you receive more comprehensive information, here is a list of answers to the most frequently asked questions.
Per the St. Joseph County Health Department Public Health Order, staff and students are required to wear a mask that covers the nose and mouth whenever social distancing cannot be maintained. Click here for the Indiana Department of Education Back to School Face Covering Guidance for Families.
Students and staff who test positive will quarantine for at least 10 days from the date symptoms began AND remain fever-free for 72 hours (without use of fever reducing medication) before returning to school. Click here for the Indiana State Department of Health guide for parents related to student screening and quarantine/isolation guidelines.
Virtual students may participate in available Honors, Dual Credit and AP classes. Additional information will be shared next week.
Virtual students may participate in extracurricular activities.
Virtual teachers will differentiate for high ability students.
Virtual students may participate in available electives.
Students may continue to bring lunch with them to school.
We are asking parents to make a semester commitment when choosing face to face or virtual instruction.
We will also share more comprehensive information on school safety protocols, individual school plans, and an FAQ document to keep you updated.
Penn-Harris-Madison School Corporation FAQ – coming soon!
We will continue to follow state and local guidance and if the number of cases of COVID-19 reaches a level where local and state officials determine that school cannot meet in person, eLearning would resume. This would be similar to last spring with some improvements based on the parent feedback we received. We tested some new educational models during online summer school and feel confident that if we have to return to eLearning, we can continue to provide a quality education while also offering social emotional support.
Stay healthy and well,
Dr. Jerry Thacker, Superintendent
Penn-Harris-Madison School Corporation